December 22nd, 2008 at 6:40 pm (Products)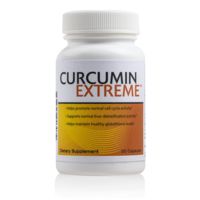 I've posted several articles on the health benefits of curcumin, the powerful antioxidant found in the spice turmeric.  The product that my husband and I take is Curcumin Extreme™ from SHOP.COM (powered by Market America).  So what makes Curcumin Extreme™ different from other curcumin products on the market?
BCM-95®
One of the issues with curcumin is that it is not very bioavailable, which means that your body can't readily absorb it.  Studies have shown that we can only absorb a small amount of curcumin when ingested.  However, a special formulation called BCM-95® by DolCas Biotech has been shown in clinical studies to be over 6 times more bioavailable than regular curcumin.  BCM-95® contains the natural spectrum of the turmeric rhizome and is 100% natural.
(Additional information on BCM-95 is available at www.bcm95.com)
Broccoli Seed Extract
Curcumin Extreme™ also includes 167mg of broccoli seed extract, a powerful source of sulphoraphane glucosinolates. Sulforaphanes support the normal production of Phase II liver detoxification enzymes including glutathione synthase, heme-oxygenase and catalase. Sulforaphanes also support gene transcription, the process by which genetic information is copied from DNA to RNA. They also support the body's natural defense systems. Glutathione is the master antioxidant in the human body which serves to preserve and protect the brain and other body tissues by protecting them from the damage of free radicals. Furthermore, glutathione recycles vitamins C and E which are also powerful antioxidants.
Related research:  Immunomodulatory activity of sulforaphane, a naturally occuring isothiocyanate from broccoli (Brassica oleracea). Phytomedicine vol. 14: 538-545, 2006.
Selenium
Selenium is a required cofactor for selenoproteins such as glutathione peroxidase. Selenomethionine is incorporated directly into proteins because selenomethionine cannot be distinguished from methionine during the translation of mRNA into protein. This serves as a storage form of selenium and is liberated upon protein catabolism. Selenium accumulates in the prostate, promoting the health of the prostate. Selenium supports immune function by promoting normal growth and development of T helper cells.
Related research:  Selenium, selenoproteins and human health: a review. Public Health Nutrition vol. 4: 593-599, 2001